D E L I C I O U S . C O R S E T S
Psydde Delicious & partner Amy Schmitz are busy enforcing child labor at their sweatshop (a.k.a. Delicious Corsets). Take a look at their gallery to picture yourself in one of their beautiful designs. You're sure to turn heads!
D E L I C I O U S . B O U T I Q U E
Delicious Corsets' world headquarters in Northern Liberties! Come to Liberties Walk and experience the circus that is Delicious... men's wear, women's wear, jewelry, accessories, and of course, corsets!
D E L I C I O U S . W O R L D . D O M I N A T I O N
A scary glimpse into the life, times, and madness of Psydde Delicious... be afraid, be very afraid!
D I A B O L I Q U E
Philadelphia chartity fetish / fantasy ball. Be bad for a good cause! Produced by Passional, Delicious Corsets, and Domina Barbie.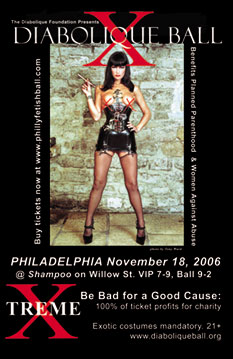 L E F T . L A N E . D E S I G N
Fast Cheap & Out of Control's original print & web designer. Also known for his design work with Delicious Corsets, Tweeter Center, Lucy's Hat Shop, and TLA Video. (will often work for gin & tonic).
D A V E . G L A S S . A R T
Punk rock artist Dave Glass Riddick. Rock poster art, album covers, poster and naughty kittens. New designer of Fast Cheap & Out of Control graphic designs.
F L U I D . N I G H T C L U B
This is the home of Fast, Cheap, & Out of Control!!! Located at 613 S 4th Street, you can click here for directions to the party on Sunday nights.
T H E . L A T E S T . D I S H
Located below Fluid, The Latest Dish is really a great & convenient spot to catch dinner and a drink before the party.
P U N K . R O C K . G E A R . C O M
Do you have what it takes to be punk, punk! Get it here!
M E L I S S A . B A N G . B A N G . C O M
Fast Cheap's orginal go-go diva!
B E C K Y . V O M I T. C O M
Visit the Vomitorium if you dare.