TITTYSLAP
IS HERE!!

TittySlap is Born.

Philadelphia's dirty loins have spawned the most shocking and offensive erotic sport ever to be filmed! TittySlap: The Ultimate Bitch Fight pits six sexy, angry, and dangerous women against each other in a savage and sexy open-hand slap fight.. all completely topless!
TittySlap: The Players

Watch as six vicious women battle bare in an ultra-violent, no holds barred slap fest! TittySlap: The Ultimate Bitch Fight contains two entire hours of jiggling bare-breasted women "Tittyslapping" one another on a treacherous trampoline arena. A house packed with hundreds of rabid, titty-hungry fans gawks on as these madwomen slap, wrestle, and assault each other in one attack-filled round after another… only one will emerge the Ultimate TittySlapping Champion!! TittySlap: The Ultimate Bitch Fight is the original Topless-girl Slap-fight film and is sure to spawn imitations, so don't be fooled by cheap knockoffs!
Now Available on DVD!
Get the entire lurid fight on DVD, plus tons of bonus footage of the girls backstage, amateur fights, ...and see what the freaks in the audience do!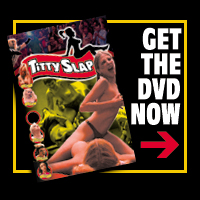 Was $19.99, NOW ONLY $14.95 !!!!

TittySlap: The Movie

TittySlap: The Ultimate Bitch Fight boasts over two hours of event footage including more than sixty minutes of bonus footage! Uncensored scenes from the TittySlap afterparty feature the TittySlap Girls going head to head with members of the frenzied audience!! Women are literally jumping up out of the crowd to become amateur tittyslappers, while the men willingly allow themselves to be "woman handled" by our lovely TittySlap celebrity fighters! Viewers will be shocked and appalled by images of baseball bat violence, dick abuse, and hot lesbian sex!

TittySlap: The Phenomenon!

The "TittySlap" phenomenon has taken Philadelphia by storm and is now about to sweep the nation. To date, "TittySlap" events in Philly have offended and entertained hundreds over and over again. It is only a matter of time before "Tittyslap" becomes a part of the American lexicon
.
Watch as the girls fight to the finish. What starts out as innocent slapping rapidly becomes an all out fight for victory. You will not believe your eyes, round after round of tittilating girl-on-girl action! There is nothing like this anywhere! What do you call such an insane and offensive battle?! We call it.... TittySlap!

What are you waiting for? You know you want to own the TittySlap Volume 1 DVD. We've got your private copy waiting. Best of all, it's safe and secure. And we respect your privacy. Stop hestitating and see the real live event on DVD!